Social Networks
Overview
Adding the Google +1 icon
Go to
http://www.google.com/intl/en/webmasters/+1/button/index.html
for the latest code. At the time of this writing, the example code was valid. Customize the button using the form on the Google +1 button page. Of the code made on the Google page to copy and paste, the div syntax, such as
<!-- Place this tag where you want the +1 button to render -->
<div class="g-plusone" data-size="small"></div>
is input where you want the button to be displayed, such as in a user (custom) module.
The JavaScript such as
<!-- Place this render call where appropriate -->
  (function() {
    var po = document.createElement('script'); po.type = 'text/javascript'; po.async = true;
    po.src = 'https://apis.google.com/js/plusone.js';
    var s = document.getElementsByTagName('script')[0]; s.parentNode.insertBefore(po, s);
  })();
goes in the Look and Feel custom JavaScript textarea, pasted as illustrated (the script opening and closing tags shouldn't be input, in Tiki 7 at least).
Further customize by adding the metatag information. As of Tiki 7 there's no way to modify the html tag by adding the itemscope and itemtype attributes, but a future release of Tiki should have this functionality.
Using Twitter and Facebook in Shoutbox
When the site has been registered with Twitter and/or Facebook, an admin can allow the Shoutbox module to show two additional checkboxes by setting the options "Tweet" and "Facebook".
If the user has the permission to use Twitter/Facebook and has authorized the site to send tweets or post to his Facebook wall, the
Shoutbox
will offer a checkbox
Tweet with Twitter
and a checkbox
Post on Facebook wall
. By activating these checkboxes, in addition to sending a shout, the message will also be sent by Twitter or posted on your Facebook wall.
Using Twitter and Facebook to share a page
When the above prerequisites are given, a user who authorized the site with Twitter/Facebook can use the
Share
feature not only to send emails/internal messages, but also tweet them and like those pages on his Facebook wall.
To setup/activate

Click the Social Networks icon on the Admin Panel
or
Access http://example.org/tiki-admin.php?page=social
| Setting | Description | Default |
| --- | --- | --- |
| Social Networks | Activate Social Networking | |
| Consumer key | Twitter Site Consumer Key | |
| Consumer secret | Twitter Site Consumer Secret | |
| API key: | Facebook Site API key | |
| Application secret: | Facebook Site Application secret | |
| Application ID: | Facebook Site Application ID | |
| bit.ly Login: | bit.ly Site Consumer Key | |
| bit.ly Key: | bit.ly Site Key | |
| Use site-wide account: | Use bit.ly URIs for all URI communications | |
Note

The following content will eventually be migrated to the Social Networks section of the Tiki User and Admin Guides.
Activate Twitter integration
First of all, go to the
Twitter page for new applications
and register your site as a new application.
As
Callback URL
you must give the URL for tiki-socialnetworks.php on your site. This is where users will be redirected when authorizing your app with oauth.
You also
must
ask for the access type
Read & Write
otherwise your users will not be allowed to tweet.
After registering your site, you get a
consumer key
and
consumer secret
which you must enter in the tab
Social networks
on the admin panel. If that tab is disabled, turn on the feature
Social networks
on the
features page
first.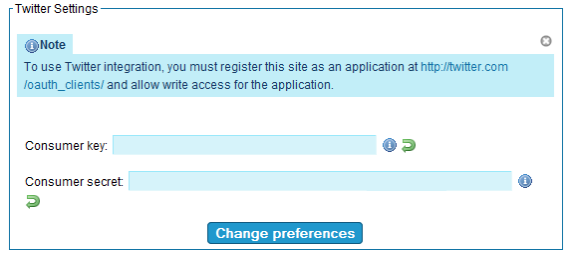 To grant a group access to the social networks functionality, set the permission
user can use social network integration (tiki_p_socialnetworks)
for that group on the
Permissions
page.
User authorization
Before being able to use the Twitter integration, users must authorize the TikiWiki site by requesting an oauth token.
This can be done via the
Social networks
tab on
My Tiki
.
By clicking on the
Authorize
button, the user will be redirected to the Twitter page, asking for confirmation. If the user agrees, an
oauth
token will be stored in the users preferences.
Setting up Facebook integration
First, you need to register a new application with Facebook. This can be done via the
Developers tool
. Later on, you can edit the Application via
Application settings
in your Facebook profile.
Step 0
On the Developer page click on
Set Up New Application
and enter a name for your Application, sell your soul (agree to the terms) and click on
Create Application
. After a successful captcha check, you can proceed with step 1.
You may need to login in Facebook to accept the validation process in Facebook (to allow the developer application use your account details in Facebook, etc).
Step 1
The name of your application is already set, so you don't need to enter a new one. Feel free to upload a logo and icon for your app. As I give support via e-Mail, I entered my email address for the users support.

Step 2
Enter the site URL and the Site Domain. My test server is at test.ott-consult.de and tiki is at the URL for my test server is at
http://test.ott-consult.de/trunk
. The Site URL therefore is
http://test.ott-consult.de/trunk/tiki-socialnetworks.php?request_facebook
.

Step 3
In this step, you don't to change anything since the
Post-Authorize Callback URL
field has been removed by Facebook.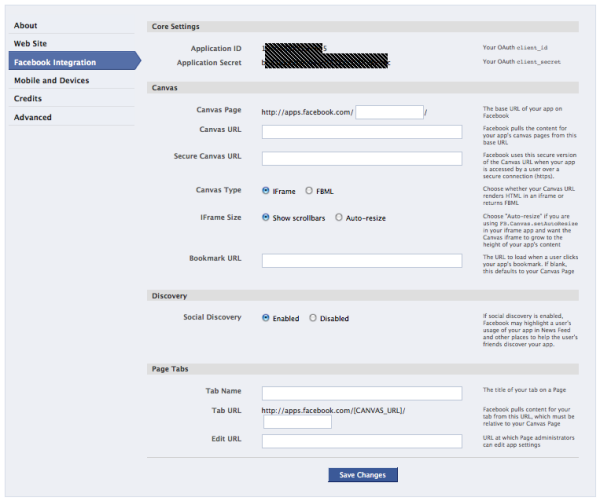 Step 4
Here, you choose the way your application authorizes with Facebook. As it is set by default, just check that
HTML5/mobile web
for your
Application type
is selected.

Step 5
Start Using Facebook Credits, this financial/billing integration mostly not needed for Tikiwiki, leave it that way.
Step 6
On this last step, you can give the Facebook
Deauthorize Callback
which will be called, when a user disallows your application on Facebook. Don't choose sandbox mode here.
Usually, your web server has a static IP address. By putting it on the
server whitelist
, you can add a bit of security, as only requests from that IP will be processed. If you run a server farm with multiple servers, add all IP addresses.
You can also uncheck all the "deprecated" setting, it won't hurt.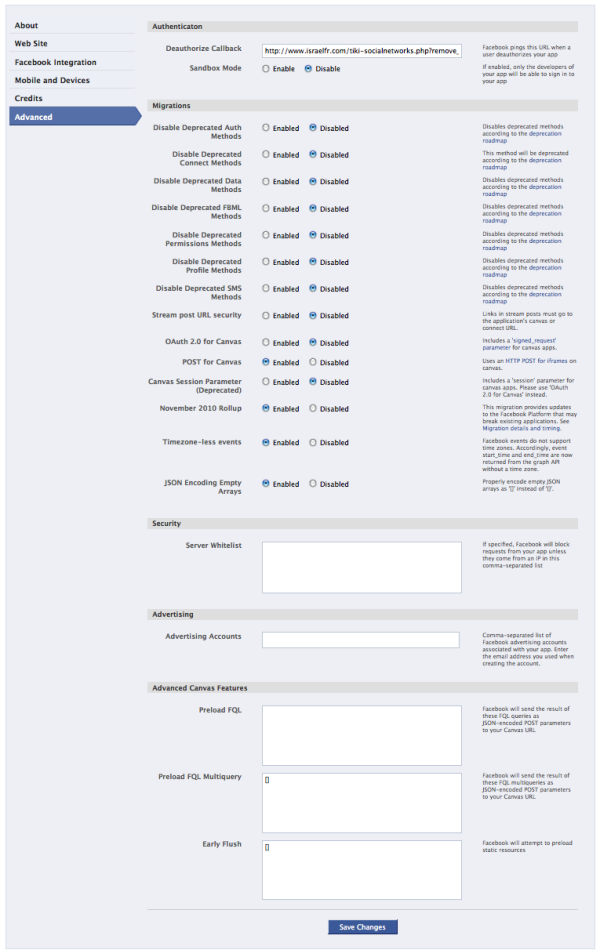 Now you created the application at Facebook and you can enter the data on your tiki server. Go to Admin->Social networks and enter the data from Facebook.
User authorization
Users need the tiki_p_social_network
permission
in order to use social networks. To login via facebook, the Anonymous group will need this permission.
Before being able to use the Facebook integration, users must authorize the TikiWiki site by requesting an oauth token.
This can be done via the
Social networks
tab on
My Tiki
.
Note : As i (Bernard) authorize it i encounter an error from Facebook servers: "message": "Invalid redirect_uri: Given URL is not allowed by the Application configuration.".
I had to logout/login for Facebook to accept the authorization. It is possible also that you have to wait more than 15mn for the Facebook server to use the setting you just entered.
Setting up bit.ly as URL shortener
At the moment, this is only used by the
Share
feature. By going to bit.ly, you can register and request a key. As Admin, you can force all users to use the site wide key which gives you a nice overview on the pages shared by your users and the feedback on that.
Logging in and creating a user by using LinkedIn
Since
Tiki15
, you can also set up your site to allow users to log into LinkedIn as they can with Facebook.
Steps to do this are:
Register your site as a LinkedIn App.

Note your Client ID and secret to put in your Tiki prefs.
Set default permissions to r_basicprofile and r_emailaddress
Set the authorized redirect url to: http://yourtikisite.com/tiki-socialnetworks_linkedin.php
Set your Tiki preferences for LinkedIn at /tiki-admin.php?page=socialnetworks

Set your Client ID and Secret from Step 1.
Check both login and auto-create user using LinkedIn
This will allow users to Log In using LinkedIn.
Using ShareThis
You can also allow your users to send links from pages in your tiki to many social networking sites by means of the widget from ShareThis (
http://www.sharethis.com
).
Since
Tiki6
the widget "share this" is also available in blog posts if you enable it at: "
Admin home > Blogs > General Settings > Sharing on social networks > ShareThis buttons
"
And since
Tiki6
.1, it's also available for articles: "
Admin home > Articles > General Settings > Sharing on social networks > ShareThis buttons
"
In trackers, you can use the widget "Share This" by means of adding a call to
PluginShareThis
in a static text field.
Related
Aliases
SocialNetwork
|
SocialNetworks
|
Social Network
|
Twitter
|
Facebook