Calendar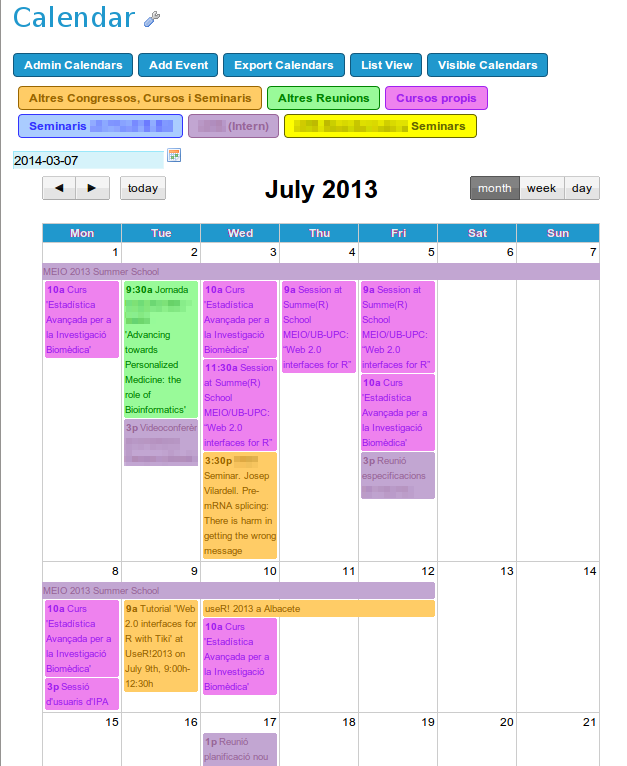 New in Tiki9
New features added in
Tiki9
:
Calendar names are now translatable (but not individual events).

This is useful if you have a calendar ID which has events in several languages. Ex. Training/Formation for CalendarID #4 and each event's info (ex.: name/description) can be in any language or you can make bilingual. The translation of the calendar name label is done like any other translation string in Tiki (lang/**/language.php or lang/**/custom.php or Interactive Translation.

New options have been added to set default new events to all day, and another option to put the name of the event on each day.
New in version 2 and version 3
[+]
General
There are several time/date & calendar-related features:
Example
For the moment there is no possibility to include a calendar formated like tiki-calendar.php into a wiki page, beyond the
PluginTrackerCalendar
since
Tiki10
. To display a calendar in that format one must use a link
[domain/tiki-calendar.php?calIds=1|Display Calendar Nr 1]
To display multiple calendars use the following code
[domain/tiki-calendar.php?calIds~0=4&calIds~1=6|Display Calendar Nr 4 and Nr 6]
Example of usage in a wiki page through the plugin module and several modules inside.
Key Function and Sub-features
Calendar tab provides view of appointments for a time period set by administrator
Event tab allows for event scheduling
Events can be all day long.
Several categories for simple selection.
Import Events from a CSV - using url/tiki-calendar_import.php (see details)
You can change your site's date and time preferences in url/tiki-admin.php?page=general
Related Links
Alias