Tiki18
Tiki 18.0 is normally planned for October 2017, but since
Tiki17
was late, we'll release in November 2017, with the goal that
Tiki19
is back on schedule.
Branching
will happen approximately on October 8th, 2017 (The day Tiki turns 15 years old!), during
TikiFestJapan2017
.
It is a Long Term Support (LTS) version and will be supported for 5 years, thus until November 2022, as per
the Tiki lifecycle policy
.
Alphabetically sorted
1.1. Composer Web Installer
You can install external packages in Tiki, with different copyright license or made optional since they are too big and maybe not intended for all use cases, through a new Control Panel in Tiki:
See
Composer Web Installer
1.2. Multi-resolution images
See below
#Plugin_Img
1.3. Print
1.4. Profiles
A dry-run option to profiles, to preview what will happen if the profile is applied.
1.4.1. Profile Export: include-files
A new option '
include-files
' has been added to
Export Profiles
from command line, so that Files in the FileGallery can also get exported files (instead of only allow url references). In addition, it also allows local file import.
See
Export Profiles
1.5. Trackers
1.5.1. Now possible to convert certain tracker fields
dropdown, dropdown with other, radio buttons, email, text, url TO dropdown, dropdown with other, radio buttons, multiselect, email, text, text area, url
multiselect TO multiselect, email, text, text area, url
datetime and jscalendar TO each other
autoincrement, currency and numeric TO dropdown, dropdown with other, radio buttons, multiselect, text, text area, numeric, auto increment, currency
This was done in
this commit
1.6. Unified Search Index reports engine and version
When the unified search index is rebuilt, there unified index engine and version are reported.
See
Unified Index
1.7. Wiki Plugins
New or enhanced.
1.7.1. Plugin Img
Enhanced plugin. A new option called '
retina
' was added. If you have a fixed width image, it will pull up a 2x version of the image for users with
retina display
(and 1x for users who don't). Note: source needs to be at least 2x the size of the width of the image being displayed.
See
Multi-resolution images
and
PluginImg
1.7.2. Plugin List
Enhanced plugin. It can return only a given set of values, usefull to filter the results or return results in a spefic order.
See
PluginList
1.7.3. Plugin PDF
Enhanced plugin. It allows to set a cover page.
See
PluginPDF
1.7.4. Plugin PivotTable
Enhanced plugin. New renderers were added to allow displaying subtotal sums for rows in the table, through the
addition
of
subtotal.js
to the plugin.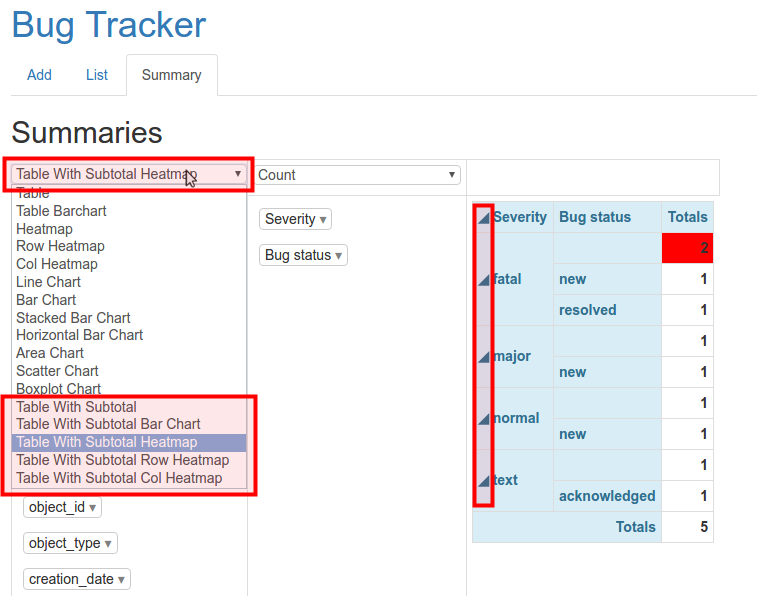 See
PluginPivotTable
1.7.5. Plugin TrackerCalendar
Enhanced plugin. It allows the user to set the colormap for the events based on the priority.
See
PluginTrackerCalendar
1.8. Console.php
A new action can be run from the command line through
console.php
:
See:
Console
1.9. Wiki Pages
301 Redirect
on Rename or Remove page. When you rename or delete a Wiki page, access to that page via bookmarks or search engines will fail. To prevent that, it's possible to indicate a new page, to which an SEO-friendly, automatic redirect from the old page name is created.

Upgrade
1.10.1. Elasticsearch 2.x to 5.x
If you are upgrading from Elasticseach 2.x to 5.x: Since ES automatically updates 2.x index to 5.x first time it starts - you can see some errors then. First time it rebuilds index might also show errors due to the automatic upgrade problems. However, once it builds the index on 5.x, then further rebuilds must not have errors. So, 2 index rebuilds after upgrade is the safest path to go.
1.10.2. Zend Search Lucene has been removed.
The Zend Search Lucene component is blocking the completion of upgrading from Zend Framework 2.x to 3.x. Zend Framework has "no plans to make any future releases"
https://github.com/zendframework/ZendSearch/pull/23
General upgrade notes
Also, see the standard information about
Upgrades
in Tiki.
Alias names for this page:
Tiki 18