Search Engine Friendly URL
Overview

This feature shortens and simplifies URLs, which make them both more friendly for users and for search engines
To access

Click the SEFURL icon on the Admin Panel
or Access http://example.org/tiki-admin.php?page=sefurl
Important Note
''Search Engine Friendly URLs will not work unless the .htaccess file is enabled.
Instructions for enabling .htaccess
''
This setting may bring down your website if there is an issue with your .htaccess file.

Prior enabling this option check you have access to your database to disable it manually in case of.
''Do not use this feature when installing Tiki on IIS server.''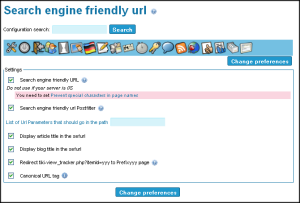 | Setting | Description | Default |
| --- | --- | --- |
| Settings | | |
| Search engine friendly url: | Enable this feature - Note: set the prevent special characters in page names setting | |
| Search engine friendly url Postfilter: | Do not enable this feature as most Tiki features output friendly URLs and this feature has high processor overhead'' setting | |
| List of Url Parameters that should go in the path: | Additional parameters such as country or language can go here. The instructions are on the Clean URLs page | |
| Display article title in the sefurl: | The Article Title rather than Article number can be used in the sefurl. The instructions are on the Clean URLs page | |
| Display blog title in the sefurl: | The Blog Title rather than Article number can be used in the sefurl. The instructions are on the Clean URLs page | |
| Redirect tiki-view_tracker.php?itemId=yyy to Prefixyyy page: | This feature uses the Wiki Prefix Alias Feature | |
| Canonical URL tag | Sets the default website urlused for mail template and other places. See Canonical link element. | |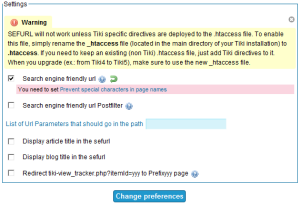 | Setting | Description | Default |
| --- | --- | --- |
| Settings | | |
| Search engine friendly url: | Enable this feature - Note: set the prevent special characters in page names setting | |
| Search engine friendly url Postfilter: | Do not enable this feature as most Tiki features output friendly URLs and this feature has high processor overhead'' setting | |
| List of Url Parameters that should go in the path: | Additional parameters such as country or language can go here. The instructions are on the Clean URLs page | |
| Display article title in the sefurl: | The Article Title rather than Article number can be used in the sefurl. The instructions are on the Clean URLs page | |
| Display blog title in the sefurl: | The Blog Title rather than Article number can be used in the sefurl. The instructions are on the Clean URLs page | |
| Redirect tiki-view_tracker.php?itemId=yyy to Prefixyyy page: | This feature uses the Wiki Prefix Alias Feature | |