Installing an Addon.
In order to install an addon, you will need shell/console access to where your Tiki instance is hosted. In the future, an Addon Manager to browse and install addons from within TIki might be developed to make it easier to install addons.
The steps for installing and using an addon are detailed below.
Making a copy of your Tiki instance or installing a new TIki instance for testing
Before you install an addon for real into a Tiki instance that is used in production by users, you will want to try out different addons to decide which one to use, on a copy of your site or on a new Tiki instance.
If you are making a copy of an existing site, make sure you remember to make a copy of the DATABASE in addition to the CODE of the Tiki instance, and change your db/local.php file of your copy to point to the new database.
As the use of addons may create new content within your Tiki site (even if you are just testing it out), you will want to make sure you really want to install an Addon before installing it there.
Obtaining the addon
Usually, you can obtain an addon package using one of the following methods:
By downloading a zip file
By cloning a GIT repository (usually from http://github.com)

See the documentation on the Addon author's page for more details.
Extracting the package into the addons folder
Once you've obtained the addon, make sure its contents are extracted into the "addons" folder in your TIki instance. The resulting folder name for the addon should match it's vendor/package name. For example, if you downloaded an addon package from a vendor "syn" called "syn_mustreads", it will create a folder "addons/syn_mustread".
Running the Addon's installation script
In your shell, goto the folder where you have your Tiki installed, and execute the following, replacing "vendorname_packagename" with whatever your addon package is.
php console.php addon:install vendorname_packagename
Note that your TIki installation must have an up to date database for this command to run. If not you will be prompted to update your Tiki database first to match your latest version. Make sure you have a BACKUP COPY of your database before doing this.
php console.php database:update
The Tiki console in general provides many other useful tools. Though not specifically related to addons, if you are interested you can check out Console.
Dependencies
Depending on the specific addon, it could depend on a specific version (or minimum version) of another addon being already installed. The developer of the addon sets this information in a file "tikiaddon.json" that is shipped with the addon. The developer should also have documented this information on the addon's website.
When running the install command above if you get error messages saying such and such profile and so on are not yet installed, you are probably missing a dependency.
Enable an Addon
Addons that are placed in the addons folder are automatically detected by Tiki. An admin can enable specific addons by means of going to the Features Admin panel > Addons (Tab):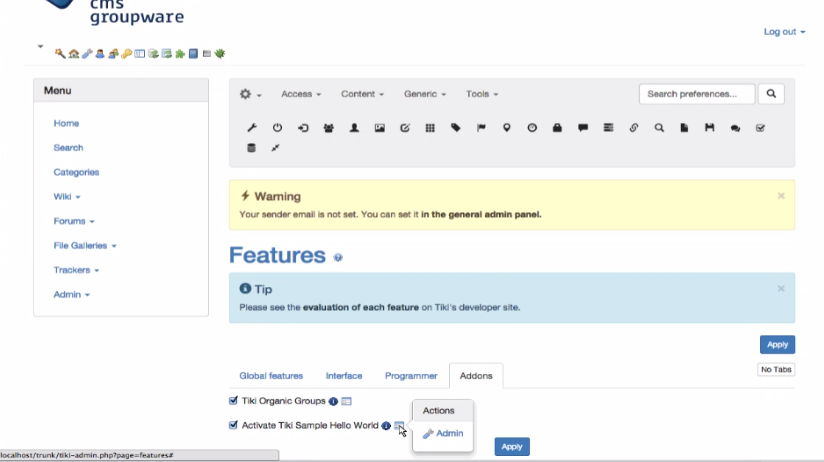 Setting configuration preferences for the addon
Each Addon may come with it's own configuration preferences. If you wish, you can change these as follows.
The link to "Admin" an addon (in this example, for the addon "Activate Tiki Sample Hello World") will show you the corresponding features of that addon (just "Bold Text", in this simple example):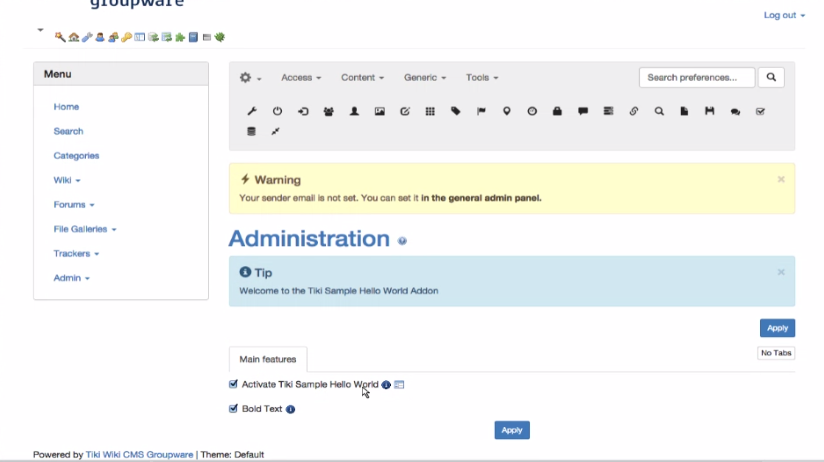 Approving new wiki-plugins that need approval
The new Addon might have installed wiki pages that contain wiki-plugins that need approval. The Addon developer should have documented on which pages these would be found. See Plugin Security and Plugin Approval for more information.
Create a Link to your new Addon
Most Addons have a "home page" (which is a standard Wiki page) where users are to go to to access the functionality of the addon. This link to the addon's home page can be added to any content on your site, or as a Menu item, depending on how you want your users to get to it.
The name of the addon's home page should be clearly indicated in its documentation.
Alias names for this page
Addon | Adon | Adons | TikiAddon | TikiAddons | Tiki Addon | Tiki Addons